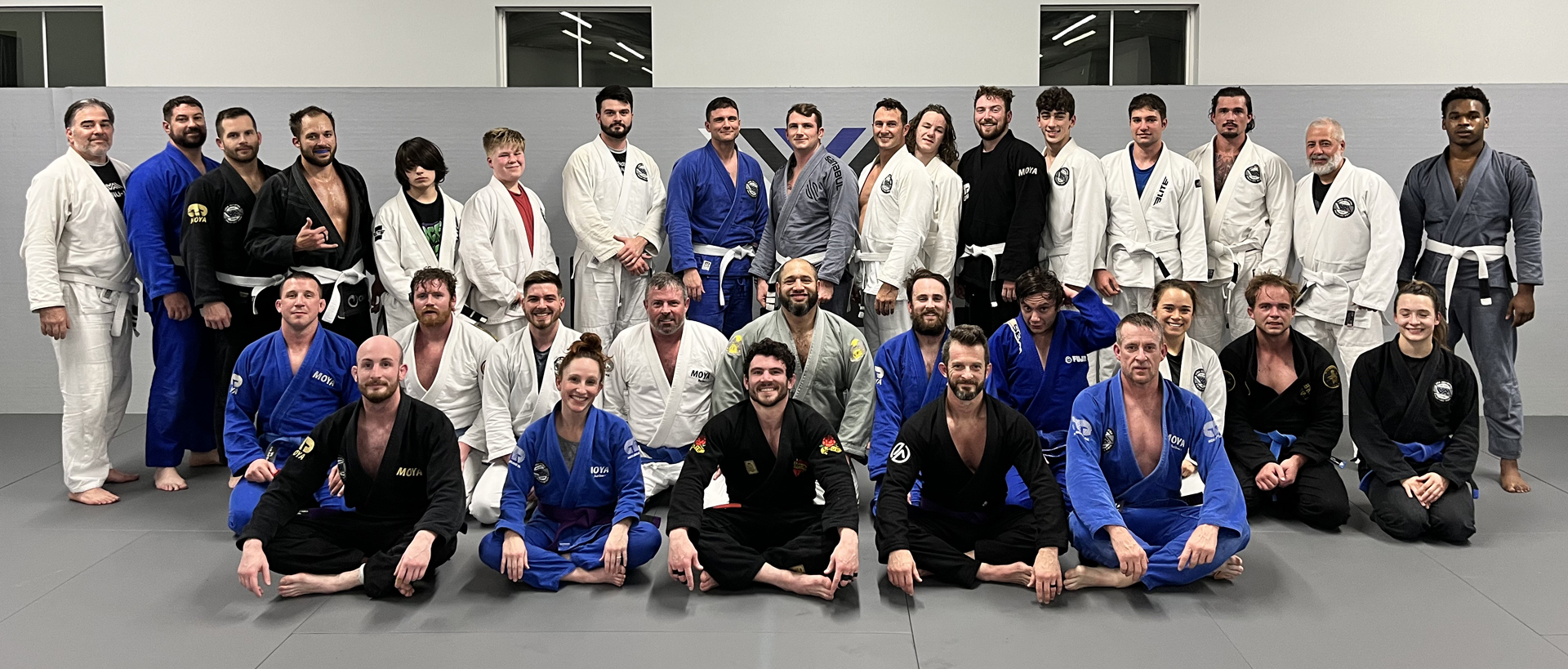 1
Can I try a class before enrolling?
Yes, if you need some time to decide if Jiu-Jitsu is for you, we offer a trial program, which includes 5 classes for $25 within a 3-week period. One or two classes is not enough time to get the full scope of what you can gain from BJJ. You'll need to come in to fill out some paperwork and get entered into our computer system. Your $25 will be applied as a credit toward your first month's membership fee if you sign up on or before the day of your 5th trial class. Stop by, email, or give us a call if you would like more information.
2
Do I have to be in shape to start Brazilian Jiu Jitsu?
No. You can come as you are and work at a pace that is comfortable to you. Your fitness level will increase the more you train.
Our Women's classes are ladies only, but all other adult classes are co-ed. Although we cannot guarantee that a female will always have another female to train with, we always try to accommodate our female members, especially when they are just beginning their BJJ journey.
4
Will Brazilian Jiu-Jitsu teach me self defense techniques?
Yes. We teach Brazilian Jiu-Jitsu primarily for self defense.
Yes. While accidents are bound to happen in any contact sport, training BJJ is relatively safe. Most of the training is centered around technique, balance, leverage and control, usually reducing the probability of injury and accidents. We are also very strict about enforcing being a good training partner, specifically regarding doing your best to not injure other students you are working with.
Yes, visitors are more than welcome to come and train with us at any time.
9
Do I need to make reservations to attend classes?
No, you do not need to make reservations, however we do appreciate a heads up if you are coming in for the first time intending to train (you can email or call) and we ask that you arrive about 30 minutes early so that you can fill out a waiver, get set up in our computer system, and get familiar with the facility.
10
Do I have to wear a Vida Jiu-Jitsu branded gi?
No, you may wear gis and patches from any academy affiliation. We do require that you wear clean/hygenic attire for each class you attend.
11
If I attend a gi class, do I need to wear a gi?
Yes.
No, but we do have a few loaner gis (we can't guarantee your size will always be available), you will receive a free Vida gi when you sign up and pay your registration fee, and we have gis available for sale.
13
Do you have showers and a locker rooms?
We have men's and women's bathrooms/changing rooms with lockable doors, we have two showers, and we have cubbies in the shower/changing rooms. Please bring your own towel and toiletries for showers.
14
Do you have any gym rules that I should be aware of?
Members have all received a welcome packet with a full rundown of rules and etiquette. Visitors can always request to read the welcome packet.
15
Do you offer private lessons?
Yes, please contact us for more information.