---

Vida Jiu-Jitsu is a Checkmat affiliated Brazilian Jiu-Jitsu and self defense training gym located in Mandeville, Louisiana. We have a team of the best instructors in the area to ensure our students receive a well-rounded curriculum incorporating different styles and methods unique to each instructor's background and skill set. We offer adult, children's, and women only classes. We are supported and have a close relationship with our local teammates out of JM Modern Jiu-Jitsu in Baton Rouge, Science of Jiu-Jitsu in Harvey, and the soon-to-open Raposo BJJ in Slidell. We also regularly run Guns & Gis, our firearms/BJJ 3-day immersion camp experience.
Vida Jiu-Jitsu means jiu-jitsu life in Portuguese. We believe in jiu-jitsu as not just a self defense art, but a way of life. You will build your second family here.
Greg Lapin Owner/Professor
Greg has made a living for the past two decades in law enforcement special operations and Government special operations, deploying to war zones throughout the world. He started his Jiu-Jitsu journey in 2005 when he was a New Orleans Police Officer because he understood what violence was and what skills he needed to have to go home at the end of the day. After leaving the police department and going to work for the U.S. Government, Greg trained on and off for several years in between deployments. He was what is known as a 10-year white belt due to not being able to train at a school consistently. During assignment in the United Arab Emirates, Greg began training seriously under Tiago Bravo where he received his blue belt in 2016. He is currently a black belt under Professor Jeremy Umphries. Jiu-Jitsu has changed Greg's life and his main goal is to expose as many people to the art as possible.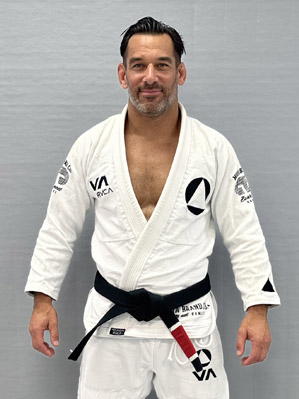 ---
Erick Raposo Professor
Professor Erick relocated to Baton Rouge from his home town of Rio de Janeiro in 2018 to assume the role of Head Instructor of JM Modern Jiu Jitsu, our affiliate academy in Baton Rouge. Professor Erick is an IBJJF Certified 3rd Degree Black Belt and referee. A multiple time Super Fight, IBJJF Open Champion, American National Champion & Brazilian National Champion, Gi and NoGi. Erick started practicing Jiu-Jitsu in Rio De Janeiro, Brazil in his early teens. Since that time, Raposo has dedicated his life to teaching Brazilian Jiu-Jitsu to kids, adults, and families as well as competing and winning at the highest level in BJJ. Professor Raposo teaches all his classes with a passion that has helped many of his students reach new heights and improve not only their skill level on the mats but also their confidence, courage, and character. He is jiu jitsu.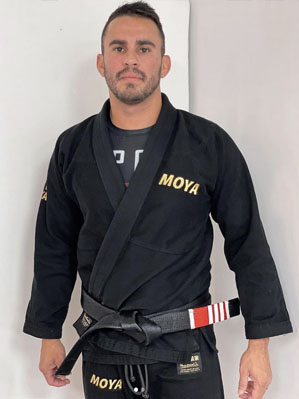 ---
Chris Holmes Professor
Chris Bio Coming Soon.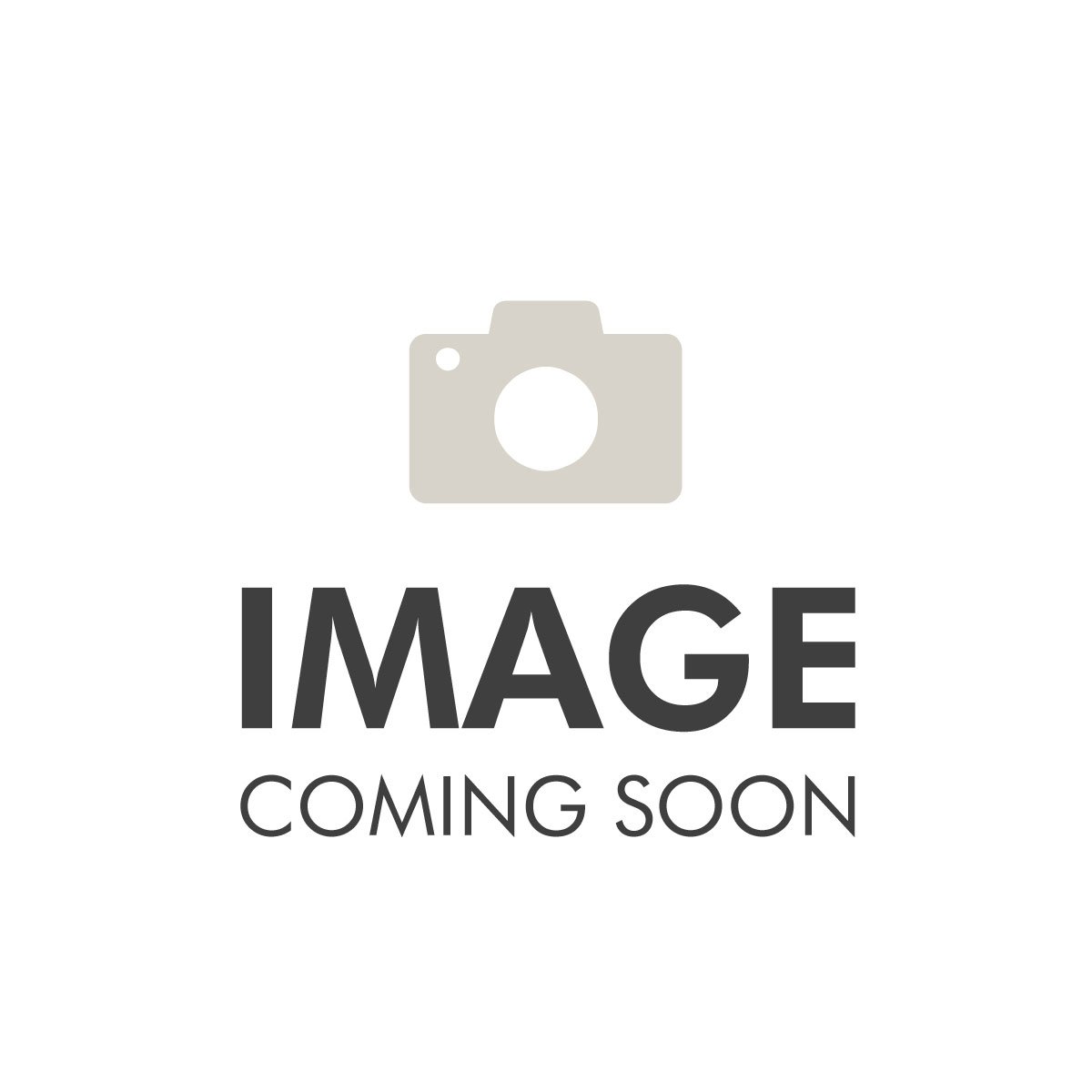 ---
Zach Cothren Professor
Zach is one of the owners of our affiliate academy, Science of Jiujitsu. He has been studying, practicing, and competing in martial arts for over 20 years. His pursuit of excellence and dedication to improvement have helped him develop into the instructor that he is today. Professor Zach's passion for helping students evolve will definitely motivate you to push yourself to levels that you never imagined. In addition to that, he brings a wealth of competitive experience to his instruction that ensures our students are learning combat tested techniques from a broad range of disciplines. Throughout his time in martial arts Zach has competed and won across the country and has developed a keen sense of what it takes to compete at the highest level. Some of Zach's Accomplishments include being the Fight2Win Pro Brown Belt Welterweight Champion, Undefeated Fight2Win Record 5-0, American Grappling Federation Champion, Gold Medalist South USA Grappling Association (Brown Belt), Gold Medalist - South USA Grappling Association (Purple Belt), 2x Bronze medalist @ IBJJF Master Worlds, Multiple IBJJF Open Medalist, Undefeated Amateur Boxer 5-0, Professional MMA record 1-1, NAGA champion, and Multiple Time Taekwondo Champion - Black Belt.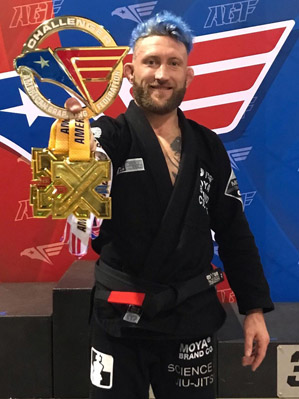 Eric Alfonso Instructor
Eric Bio Coming Soon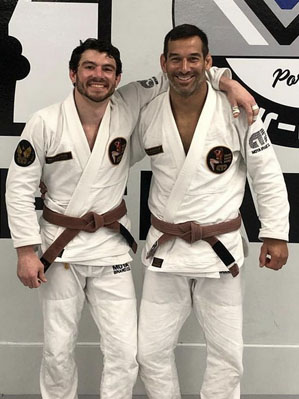 Stephanie Williamson Instructor
Stephanie is a critical care nurse, wife and mother of 2. She started Jiu-Jitsu for self defense and a way to participate in a hobby that the whole family could enjoy. Since starting, she found a love for the competition scene. Some accomplishments include 4x IBJJF Master World Champion, 3x PAN American Champion, 4x American National Champion in the gi and 4x American National No Gi Champion, and 1x PAN American Champion No Gi. Currently, Stephanie is a brown belt under Professor Erick Raposo. In addition to competing, Stephanie has a love for watching students grow and progress beyond what the originally thought they could achieve. "Stronger Every Day"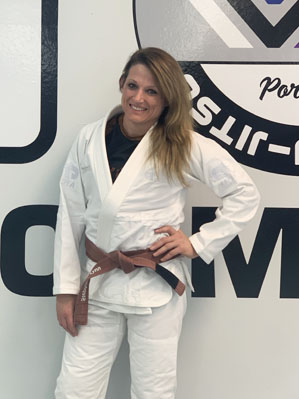 David Flowers Instructor
David is a small business owner and true lover of Jiu Jitsu. David started his journey with BJJ in 2015 as a way of connecting in a new community. His passion quickly grew and in 2018 he competed in and won his division in his first IBJJF competition. He moved to the Northshore in 2019 from Houston and quickly found Vida and knew he was home. This just further ignited his passion for Jiu Jitsu and increased his love for the Vida Family. David grew up in Bay St Louis MS. He and his wife love the beach life and helping others grow in their own journeys. His style is very technical and he takes a common sense approach in his teaching, breaking steps down in detail to make sure anyone and everyone can apply it, no matter their skill level.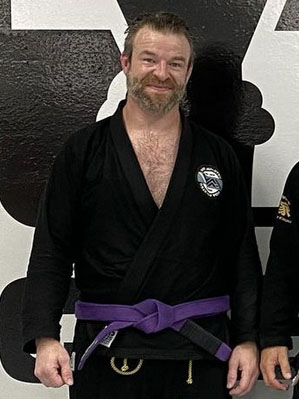 ---
Casey Lapin Owner/Kids Instructor
Casey keeps the Vida ship afloat by running the office and keeping the guys in check. She's a graphic designer by trade (check out www.vidajiujitsu.com for lots of fun Jiu-Jitsu inspired merch), and she and Greg have two children and a Boxer, all of whom you'll likely meet at the gym on any given day. She is currently a purple belt and teaches the Vida Padawans class.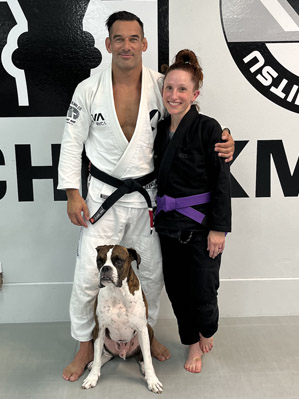 Finn Greeter/Employee of the Month
Finn is the most important member of the Vida team and takes his job as greeter very seriously. He does expect pets when you arrive.